The name, Mark Twain, brings to mind rafts and white washed fences, rivers and riverboats, and characters like Huck Finn, Tom Sawyer, and Becky Thatcher. And a place on the Mississippi — Hannibal, Missouri. Last fall my husband and I veered off our path a bit to visit Hannibal. So much rich history of this well known author and his life.
Our first stop was for lunch at Becky Thatcher's Diner.
Most are better acquainted with the author Mark Twain than the man, Samuel Clemens. They are one and the same.  On the river boats a rope dropped in the water to the mark of two knots meant safe water ahead. Samuel Clements left life as a riverboat captain and  later adapted Mark Twain (twain = 2). So two knots were Twain Marks. Thus his pen name.
Here are 8 Things You May Not Know About Mark Twain.
Every river boat captain needs the wheel to steer. My husband filled the role for this pic.
Every writer needs a place to craft his work. The man traveled the world and wrote from many locations. This was a favorite writing desk and chair used in his last home in Connecticut.
Tom Sawyer's Fence is an iconic piece from American Literature. Getting in on the action here. The Clemens house shows above the fence on the left side of the photo.
And right across the street is Becky Thatcher's home. These homes are not original. They have been reproduced to be as accurate as possible.
Detailed displays for his many stories filled the Mark Twain Boyhood Home and Museum.
The marker on her home clearly said "Becky Thatcher's House," but that name also was made up by Samuel Clemens. Laura Hawkins inspired the character of Becky Thatcher. Her family lived in the "Becky Thatcher" house.
Samuel Clemens traveled far and lived many places far from his Hannibal, Missouri roots.
A trip to Hannibal incomplete without a ride on the Mark Twain River Boat. (The back of the heads do not belong to us, but to fellow visitors.)
The museum's yellow and maroon bound collection of Samuel Clemens/Mark Twains works brought back a memory of my mom's collection of these books resting in our family bookcase.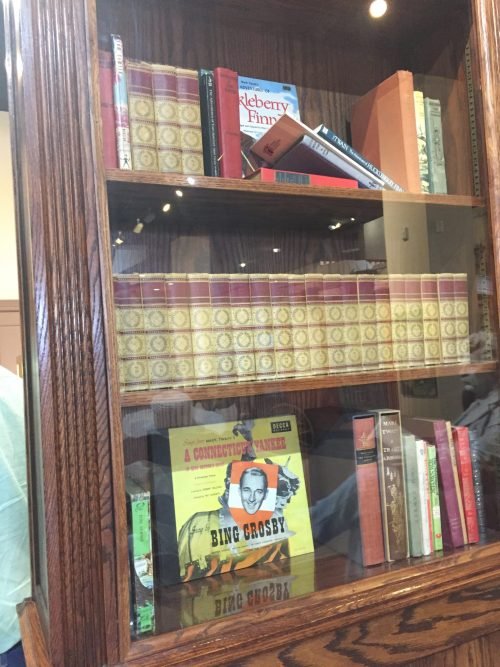 Copyright 2020, Lynn U. Watson.
All photos were taken by and property of Lynn U. Watson